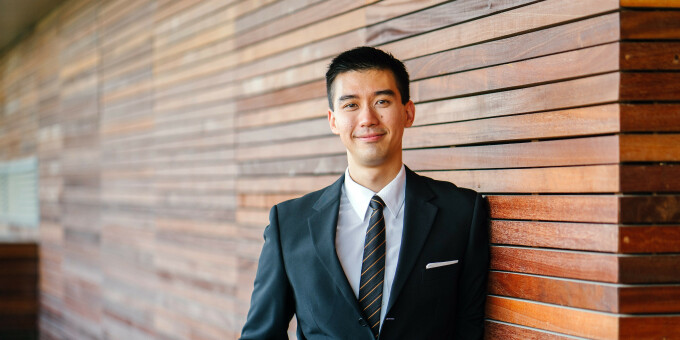 BY DAN KIEHL, Senior Pastor of Oakwood Presbyterian Church
One of the little responsibilities that goes along with being a pastor is that of occasionally giving a reference for someone who is applying for a job or a school. I was filling out a reference form one day when I came across a question that asked me to assess the person's "self-esteem". I found myself in a dilemma. If I rated him low in self-esteem, the school would have interpreted it to mean that he was unconfident and self-pitying (which he isn't). But if I rated him high in self-esteem, I would have also been saying something untrue, since I associate self-esteem with pride, and I consider this person to be truly humble and Godly. I eventually decided to just leave that line blank.
I know that it is possible to define self-esteem in such a way that it fits Biblical teaching. Our goal is to judge ourselves according to God's view of us, not the world's or our own. Paul tells us, "Do not think of yourself more highly than you ought, but rather think of yourself with sober judgment, in accordance with the measure of faith God has given you." (Romans 12:3). God sees believers as His dearly loved children, as those created in His image, bought with the blood of His Son, gifted by His Holy Spirit, and being re-created into His Son's image. We not only should but must "esteem" or honor the image and gifts of our Lord that are present in our lives. But that honor is really directed towards the Lord, because "we are His workmanship, created in Christ Jesus to do good works, which God prepared in advance for us to do." (Ephesians 2:10). As a matter of fact, Paul tells us that we should become so focused upon Christ and upon being like Him, that we lose our old worldly identity – "I have been crucified with Christ and I no longer live, but Christ lives in me. The life I live in the body, I live by faith in the Son of God, who loved me and gave Himself for me." (Galatians 2:20).
The problem is that the world has set the definition for the term "self-esteem", and to them it doesn't have anything to do with honoring God's work of redemption and re-creation in our lives. What they really mean is "self-glorification", or, in its worst forms, "self-deification". I have sat through anti-drug, self-esteem-based programs where kids are told to stay away from drugs because they are so special, too special to get involved with drugs. This isn't obedience to God; it's obedience for self-interest. When the child becomes convinced that disobedience (drugs, fornication, violence) is more to their advantage (and to their glorification in the eyes of their peers), they will chuck the "just say no" approach. The Bible teaches that our lives are worthless without the work of God's grace in us – "There is no one righteous, not even one…no one seeks God. All have turned away, they have together become worthless." There is no real "esteem" to your life apart from Christ.
If self-esteem isn't focused upon Christ, then it is a lie; it's idolatry, the worship of self. The Bible directs us away from the narcissistic tendencies of our sinful nature. Paul says, "Do nothing out of selfish ambition or vain conceit, but in humility consider others better than yourselves." (Philippians 2:3). We should be focused upon the Lord and the needs of others, to the point where we begin to forget about ourselves. Here is one of my favorite quotes from C. S. Lewis: "The real test of being in the presence of God is that you either forget about yourself altogether or see yourself as a small, dirty object. It is better to forget about yourself altogether…" He goes on later to say that a truly humble person isn't one who is always thinking lowly thoughts about himself; it is the person who doesn't think about himself at all. Our goal in life isn't self-esteem – it is Christ-esteem!