Women's Ministry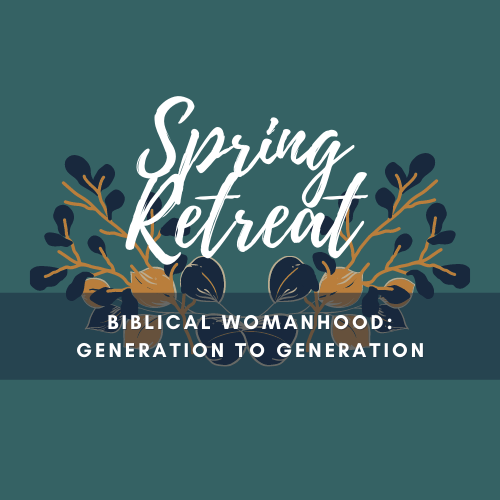 Friday, April 16 and Saturday, April 17
Sign-ups will be open through April 11, however for planning purposes, please let us know as soon as possible if you plan to attend.
We hope that you will join us for Oakwood Women's Spring Retreat that will be both in-person and virtual. This year we will focus on what it means to be godly women, sharing life side by side and connecting generations. Part of our time will include listening to teaching sessions by Susan Hunt, the author of many resources created for PCA women over the last 50 years. Susan's recordings will cast a vision for us to be life-givers as we seek to cultivate community life among God's people.
Click HERE to sign up for a wonderful time of food, fellowship, teaching, and fun. The retreat will be held at Oakwood beginning Friday evening, April 16 through Saturday afternoon, April 17. Childcare is not provided, but nursing babies (and their strollers) are welcome to join us.
You can attend in-person or virtually through zoom. For those who sign up for the zoom option, the Women's Ministry Team will deliver a "Retreat Care-Package" containing all you'll need for your at-home retreat.
We would love for you to share this information with your family and friends. Look forward to seeing you there!
---
SCHEDULE
Friday, April 16
6:00 pm Registration Opens
6:30 pm Dinner from Olive Garden
7:30 pm Session 1 – Susan Hunt
8:30 pm Dessert Fellowship
9:30 pm End of Session
Saturday, April 17
8:30 am Coffee and light breakfast
9:30 am Session 2 – Susan Hunt
12:00 pm Lunch from Honey Baked Ham
1:00 pm Session 3 – Susan Hunt
2:30 pm Snacks/Fellowship/Overview and Reflection
4:00 pm Retreat ends
---
Cost
$20 suggested donation per person
Free for students (high school, college, and graduate students)
If possible, please make your donation ahead of time by writing a check to Oakwood Presbyterian Church with "Women's Retreat" in the memo line. You can then place it in the donation box in the sanctuary or mail it to:
Oakwood Presbyterian Church
Attn. Tricia Sharp
1865 Waddle Rd.
State College PA 16803

T

hose attending in-person are welcome to bring their donation on the night of the event, but paying in advance will help minimize the line during check-in.
---
Bring
---

Homemade Desserts Request
Can you bake for us?
Can you help us and bless the retreat attendees with one of your scrumptious homemade desserts? If so, please click HERE to sign up to bring a dessert for either Friday, April 16 or Saturday, April 17. Thank you so much for your support!
---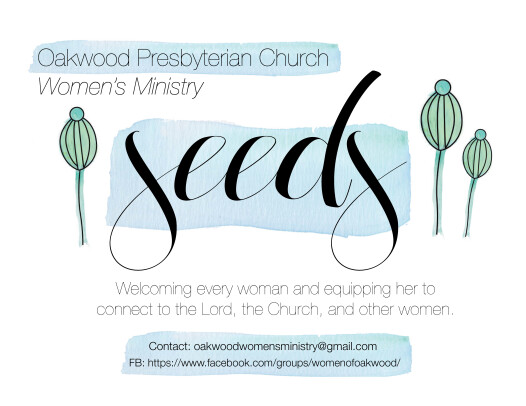 If you have questions, contact Tricia Sharp at .

Get Involved
The Women's Ministry at Oakwood is expressed in the acronym S.E.E.D.S. We work together to include women of all ages and integrate our activities into the life of the church as a whole by....
S
Strengthening the Church by embracing Oakwood's vision and participating in its fellowship, worship and ministries.
E
Equipping every woman to grow in her understanding and application of the Bible so that she can think and live biblically for God's glory and her good.
E
Enfolding every woman in life-giving, Christ glorifying community.
D
Discipling women through intentional, multi-generational relationships for the purpose of teaching, mentorship, and friendship.
S
Serving women with the compassion of Christ by sharing the gospel and providing practical assistance, companionship, counseling, and prayer.
Contact the Oakwood Women's Ministry at