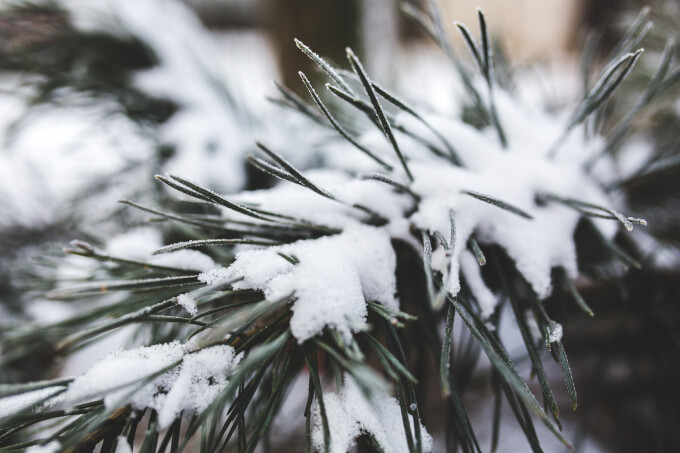 BY DAN KIEHL, Senior Pastor of Oakwood Presbyterian Church
I love a white Christmas, but even here in Pennsylvania the Christmases are more often green (or brown). I grew up in the "snow belt" of Northwestern Pennsylvania, and I was a young child in the 1960's, which we later found out was one of the snowiest decades in the past century or so. Snowmen, shoveling, sledding, and snow mobiles were as much a part of my life as were summer activities like swimming and hiking. So, for me, it just doesn't seem like Christmas without snow.
We all have strong emotions tied to the objects and traditions that became attached to Christmas when we were children. I can still feel the tingles of excitement when I remember how I felt when I would come home from school at the end of November and discover that my mom had brought out the Christmas decorations while I was gone. We didn't have a lot of money when I was a child, so the decorations were carefully preserved and brought out year after year after year. I loved those decorations.
I especially remember one particular decoration. When I was a preschooler, my mom came home from the grocery store one day with a bottle of dish detergent. Hugging the bottle was a stuffed elf, holding on for dear life, hoping that some child would beg his mother to buy that detergent so that he could have a home (and something more pleasant to squeeze). For many years after that the elf would come out of hiding during the month of December and be my pal as we waited anxiously for Christmas day. I loved that elf, and I still have him stored away with my family's Christmas decorations (although my wife won't let me put him in public view anymore).
It's a natural thing when our emotions get attached to objects. But it can be dangerous when it happens as a part of our spiritual life. I spent a week in Ukraine in 2009, and it was my first exposure to the Ukrainian Orthodox Church. I had been told that I wouldn't find much that was familiar or spiritually vital in the Orthodox Churches, and, although I only visited a couple of them while we were there, I quickly saw what was meant.
Most of the church buildings we saw were beautiful on the outside, with their characteristic onion-shaped domes and crosses. Once you stepped inside, your senses were instantly overwhelmed. It seemed as though every inch of every wall was covered with paintings of Biblical scenes, Biblical figures, and saints in large, ornate frames made of gold. The small space inside the sanctuary was filled with statues, candles, and altars. There were no seats, and not much room to stand. I was told that people come in throughout the day, every day, to perform rituals and say prayers before the statues and paintings.
I found myself wondering how these odd furnishings and rituals could have ever developed out of the simple worship of the church in the book of Acts. Of course it took hundreds of years for it to happen, and it's related to two natural tendencies in mankind – our sin nature and our bent towards attaching emotions to the objects associated with them.
At Christmas right after I became a Christian at sixteen years of age, I remember sitting in front of the nativity set that my mom had displayed every Christmas since I was born and seeing it through new eyes. I now knew that those tiny statues of Mary, Joseph, the wise men, the shepherds, and the baby Jesus were a visual representation of event that signaled my deliverance from sin, hopelessness, and despair. God had sent His only Son that I might believe on Him and have everlasting life. I remember being deeply moved, and responding with prayer and worship.
As I praised God in front of that nativity set, was I worshipping before an idol? No, but you can see how easy it would have been for me to come back to that nativity set again and again, seeking the same feelings of joy, awe, and thankfulness. But, because of my sinful tendency to seek the benefits of faith through my own efforts, you can also see how quickly the worshipful experience could be disconnected from the true object of faith – the incarnate, crucified, resurrected, and ascended Jesus Christ – and become connected instead to the man-made objects.
That is why the Second Commandment given to Moses at Mt. Sinai forbids us to use physical objects as an aid to worship. As the commandment was given, Aaron was creating a golden calf to aid the people in worshipping Yahweh, and the Lord judged the people for the abomination. We are idolators at heart, and we will always seek to replace our Sovereign Lord with objects and rituals that we can manipulate and control. And we have a drive to obtain the feelings and benefits of a relationship with God without submitting to His lordship.
Go ahead and enjoy the traditions and objects associated with Christmas. But be sure that your worship is "in spirit and in truth", focused upon the One who left the glories of heaven to become poor, that we might become rich in Him for all eternity.