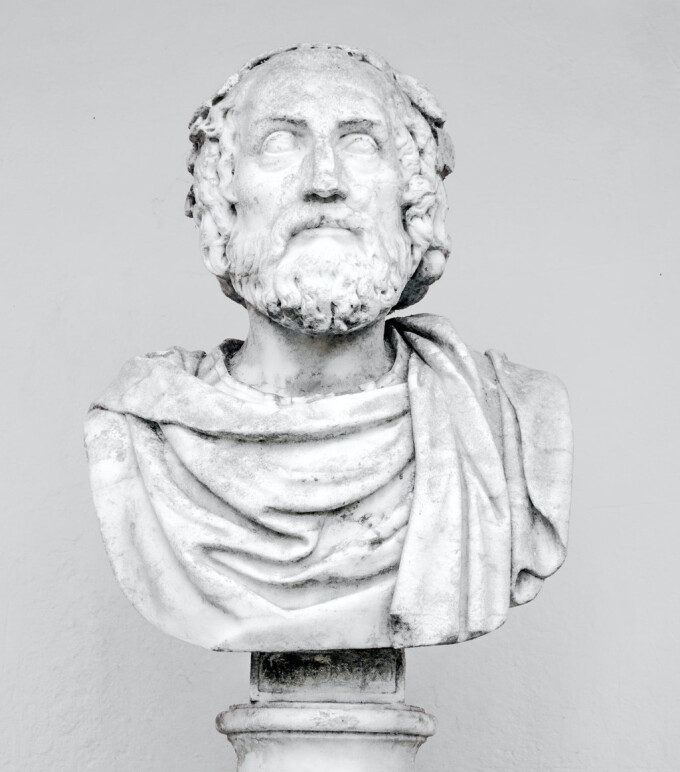 Question: "Some people claim that the Apostle Paul and some early church theologians like Augustine were heavily influenced by Greek philosophy, in particular the writings of Plato. Is this assertion of Platonic influence on the writings of Scripture and Christian theology accurate? How does this affect our view of the inerrancy of Scripture?
Answer: These are excellent questions. I'll separate your question about the Apostle Paul from the one about Augustine since one deals with the doctrine of inspiration and the other doesn't.
1. Paul - The question you raise goes to the heart of our understanding of how God inspired men to write the Scriptures. One view, that few hold to anymore, is that of "mechanical inspiration" - the idea that the writers of Scripture were passive and had no personal involvement with the revelation given to them by the Holy Spirit, lest their sinfulness corrupt the pure truth being communicated in writing through them (for instance, some believed that their writing took place while they were in a trance of some sort). The widely accepted view is that of "organic inspiration," which states that the Holy Spirit superintended the entire context of the writing of the Scriptures so that what Paul and the other authors of Scripture wrote were exactly what God intended to be written. This fits the Biblical teaching on Providence, which states that God sovereignly controls every moment and event of history, even our free choices as human beings.
The Holy Spirit used Paul's training, experiences, culture, and temperament as elements in guiding him to write down the truth inerrantly. We can see how Paul's personality, education, and context are reflected in his writings, and those factors must be studied alongside Scripture so that we can interpret God's Word accurately. Just as there is the mystery of God's sovereignty and man's choice in the doctrine of election (we freely choose Christ because we were first chosen by God) there is a similar mystery in the doctrine of inspiration (Paul freely chose his exact words because they were first chosen by the Holy Spirit).
There were many true ideas in the writings of Plato and other classical Greek philosophers and writers. As a matter of fact, my philosophy professor in college, a Christian, saw so much truth in Plato that he expected to see Plato in heaven, based on Plato's remarkable grasp of the truth that could be known before Christ's birth (I disagreed with him vehemently...it got me thrown out of class one day!). I would attribute the truths found in the teachings of pagan philosophers and false religion to be a result of God's common grace and general revelation through creation, as well as the vague echoes of God's special revelation in Scripture that have spread through most civilizations in history. It doesn't surprise or bother me that Paul, led by the Spirit, would take the proverbial baby out of the bathwater of classical philosophy, refine it in accordance with what God had revealed, and then communicate that absolute truth in similar terms.
One clear example of this is in John's Gospel, chapter 1, where he calls Jesus "the Logos" (the Word). This was a popular term in Greek philosophy, which referred to an impersonal rational principle that governed all of life. John purposely used this term from his culture, but, by the Holy Spirit's leading, added to it the truth that the powerful force of Reason and Light that governed the universe was actually a divine Person, the Lord Jesus Christ, and He had taken on human flesh and dwelt among us. John, like Paul, was a student of philosophy, history, and culture, but his writing wasn't shaped by those forces - instead he shaped that knowledge and experience to fit what the Spirit had revealed to be true.
2. Augustine - the issues are, of course, different with Augustine, because he didn't write under the Holy Spirit's inspiration and his writings aren't inerrant. As a matter of fact, there are quite a few things in his writings that I don't believe are consistent with Scripture. But I do believe that, like other great theologians such as John Calvin and Martin Luther, he was given an extraordinary insight into what God had revealed in Scripture and was used by God to formulate and clarify doctrines of Scripture for the benefit of the church for these many centuries since.
Again, he was a student of the classical Greek and Roman philosophy and worldview and saw much truth in it. There are undoubtedly places in his writings where he is more influenced by his classical studies than he was by his Biblical studies, just as there are clearly places in his writings where he was influenced by unBiblical teachings that had been embraced by the Church in that day. As with any author writing about Scripture (instead of writing Scripture itself), we must carefully compare everything he writes with God's Word, accepting the good and rejecting the bad. As we do so, we must be vigilant to try to discern the non-Biblical philosophies and values that have crept into our own thinking.