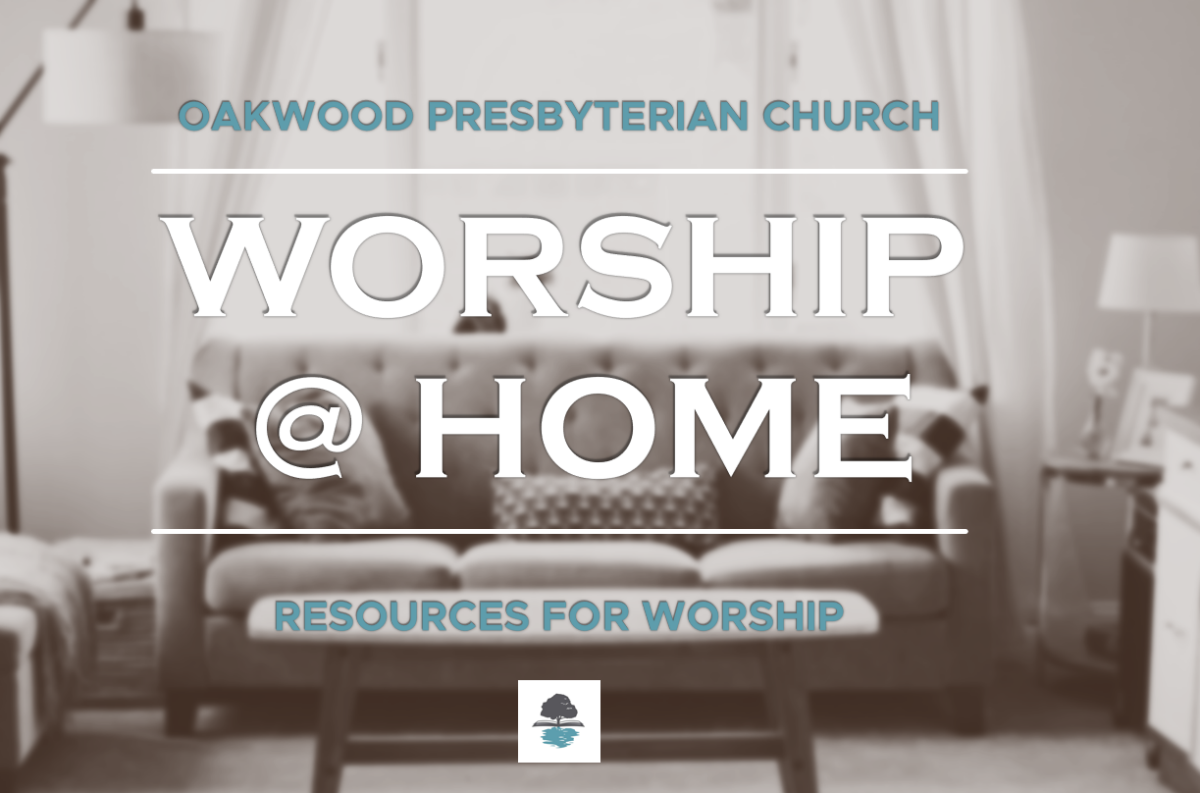 Every Sunday from 03/22/2020 to 05/31/2020
During this time, when we are unable to meet together due to COVID-19, we will provide all of the resources for worship on our website, so that families and singles have what they need for Biblical, Gospel-centered home worship on the Lord's Day. This includes a video of the sermon each as we continue our series through the book of Luke. There is also a full order of service to accompany the sermon video which has Scripture readings, prayers, and links to hymns and songs that you can use for worship. The sermon video will be posted on the Oakwood website at www.oakwoodpca.org by Sunday morning, and the order of service will sent by email and will also be posted on the website. Included in the order of service and on the website is a link to PayPal, so that you can give your tithes and offerings online. You also can send a check to the church (1865 Waddle Road, State College, PA 16803). Please keep your giving at its normal level if possible, so that we don't have to make cuts in our ministry at a time when the world desperately needs the witness of the church.
Our church building is closed and will not be used for any church gatherings, but the pastors and staff can be reached by phone if needed.
A few additional thoughts, God is sovereign over all things. He says in Isaiah 46, "Remember this and stand firm...for I am God, and there is no other; I am God, and there is none like me, declaring the end from the beginning and from ancient times things not yet done, saying, 'My counsel shall stand, and I will accomplish all my purpose... I have spoken, and I will bring it to pass; I have purposed, and I will do it.'" We can be absolutely sure that God's purpose in this moment for the Church of Jesus Christ and each of His true disciples is to refine, strengthen, comfort, and prosper us spiritually. We may sacrifice and suffer in this life, but God is faithful, and He has promised that "all things work together for good, for those who are called according to His purpose." As God also said to Isaiah in chapter 41, "... fear not, for I am with you; be not dismayed, for I am your God; I will strengthen you, I will help you, I will uphold you with My righteous right hand."
Also, this is a fantastic opportunity for us to reestablish an important but sorely lacking element of discipleship in the church today - spiritual leadership and nurture in the home. While we are restricted from coming together as a church for worship, fellowship, prayer, and Bible study, the focus turns to our homes and families. This is an opportunity for husbands and fathers to step into a greater role of leading family worship and daily devotions, and for parents to be more intentional about training children in the Scriptures and Biblical wisdom. And for those who are singles, your calendar has been cleared in many ways to provide more time for time in the Word and prayer and encouraging and serving others (from a distance, of course). For too long work hours away from home and extracurricular activities have marginalized time for growing in Christ and serving Him. If strengthening this aspect of our piety is an outcome of this period of isolation from culture, then that will be a very good thing.
Finally, This period of involuntary fasting from sports, entertainment, shopping, working outside the home, and even church activities is a real opportunity for you to "re-boot" your life. All of those important things that you've said you don't have time for - well, now you do! It's a time to reassess your priorities, commitments, and pursuits and recommit to "seeking first the Kingdom of God and His righteousness." Practice "social distancing" by getting out into God's glorious creation and be awed by the beauty and wonderful complexity. Reach out to your neighbors to see how you can help and encourage them. Don't "binge-watch" away this precious time of retreat - seek the Lord's face and ask Him to give you His perspective on your life and its goals and purposes.