Reflections on a Week with Middle Schoolers (and why I'd do it again)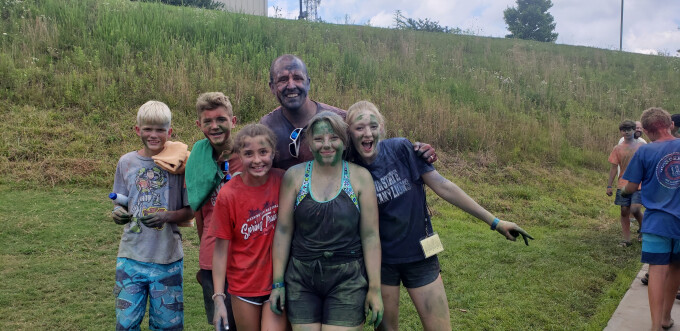 BY BENJAMIN R. LEE, Assistant Pastor, Oakwood Presbyterian Church
I'm tired, ya'll. Last week I traveled down to Covenant College at Lookout Mountain, Georgia to spend four days with 600 middle schoolers at The EDGE Conference – a conference organized by a group of PCA pastors geared specifically toward middle school students. Students from Oakwood and I met up with another group of students and leaders from New Covenant Fellowship PCA in Mechanicsburg for a week of non-stop goofiness and serious discipleship. We viewed our attendance at this year's EDGE as kind of like a test run. We'd never been before so we thought we'd give it a try to discover if it might be a good addition to our youth ministry in years to come. Test runs like this are essential because, believe it or not, not all conferences are made the same. But let me tell you, The EDGE did not disappoint. After attending and having some time to reflect on the experience, I thought I'd share my thoughts on why I'm excited to take a whole lot more students (I hope) again in 2022.
First, I want to express thanks to the Lord for His kind sovereignty in making this trip possible. We weren't planning on doing any trips this summer with our youth. Budget restraints coming out of COVID left us with few options. But in God's kindness, during lunch at a Presbytery meeting early this year I just so happened to sit with a guy I'd never met before who just so happened to be Joe Slack, the youth pastor at New Covenant. During lunch, we talked about what our respective youth groups were doing during the summer. Joe started talking about The EDGE. And he talked it up big, like it's the best thing since sliced bread. Joe has been attending the conference for 11 years now, and he had nothing but great things to say about it. When I told him we didn't have any trips planned he said, "Hey, why don't you just jump on our bus and ride down with us!" We don't have transportation, so getting somewhere is our biggest obstacle to doing trips. Riding along with another church was the perfect solution. God is kind. After Presbytery I immediately began getting the word out and several students signed up.
And wouldn't you know it, it just so happens that, at least in my mind, one of the greatest benefits of the trip was the relationship that developed between Oakwood and New Covenant. What intrigued me so much about the possibility of attending the conference with New Covenant was the opportunity for our students to interact with other PCA kids – an opportunity they don't get here in State College. Watching our students and New Covenant's students interact and grow to love one another was a true joy. I don't think I'm speaking out of turn to say that all of our students developed new and genuinely deep friendships with kids from New Covenant. I'm sure I don't need to elaborate on how beneficial it is for kids to have those kinds of relationships with other believers their own age. The impact is difficult to quantify. This opportunity wasn't lost on me either. I found in the other pastor, Joe, not only a ministry mentor (and frankly, a youth ministry superhero), but a friend. We've already decided that our groups need to spend more time together. By God's grace, you'll be hearing the name New Covenant a lot more in the future. The relationships that came out of the EDGE were alone worth the price of admission.
Another reason to attend the EDGE again is the opportunity for memory-making. As my new youth ministry hero told me, conferences like this one offer a student a memory on which to hang their hats. In other words, because it's so intense and intentional the memories created will function as signposts in the life of a student. It's something they will look back to as formative. It's going to stand out as a time when they heard the gospel in a unique way in a particular place that made a lasting impact. Maybe you experienced something similar as a kid at a church camp or youth trip. You know the enduring significance of formative signposts when you grew deeply in your walk with the Lord or were challenged or impacted in some unique way. Ask any of the students who went to The EDGE and that's the testimony you'll hear. The EDGE wasn't just summer fun. It was a signpost of God's grace in their lives.
The key that makes these signposts what they are is in the worship and intentional discipleship experienced at The EDGE. Each morning we gathered together with all 600 students for a time of corporate worship. This was followed by a series of sessions students could attend where they could learn about things like "how to read your Bible," or "why we want to be liked and what the gospel has to say about it." Then after a time for their own personal devotions, we broke up into small groups for discussion and reflection. And that was all before lunch! In the afternoon we participated in all kinds of funny games, like Color Fest (see pictures) and Water Fest (there was more mud than water). But then in the evening, we returned to the chapel again for worship and a sermon dedicated to sharing the gospel with students. On one of those nights, students were given an opportunity to respond in repentance and faith, and many did! Each night we met together as a group to discuss what we learned and share about what God was doing in our lives. To hear students open up and articulate some truly deep things God was doing in their hearts was amazing. Then we went to sleep and woke up to do it all again the next day! And I don't even have space to mention all the personal conversations and discipleship opportunities that happened on the bus ride home!
I'm not lying. I was dead tired when I finally plopped down in my comfy bed at home. The coffee I.V. drip still needs to kick in, but I'm doing it again next year, and I hope I can take a busload(s) of kids with me. Lord willing, we can join up once again with our new friends at New Covenant too. And hey, maybe you'll want to volunteer to come and serve with me? Who knows? Maybe EDGE 2022 will be a signpost for you. If you want to hear more, come to talk to me, or better yet, talk to one of our students! And please, encourage more to sign up for next year!