Bellefonte Update - March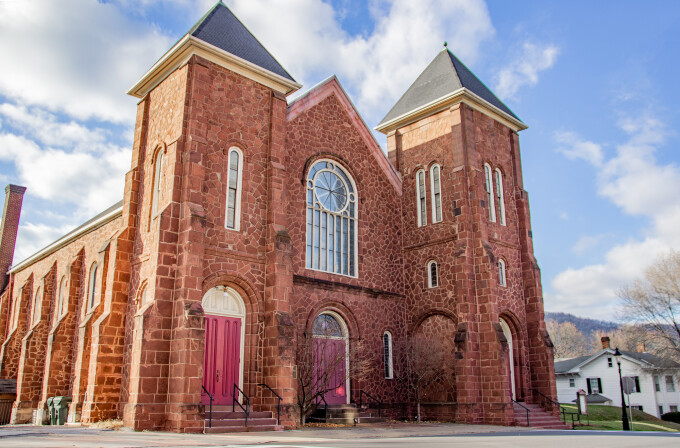 2023
BY OWEN HUGHES, Associate Pastor, Oakwood Presbyterian Church
The Oakwood Church Plant in Bellefonte continues to thrive as we seek to live out our vision of being a loved, placed, and blessed people. Because we have been blessed by the Lord, we are looking to bless Bellefonte and our communities! God's faithful blessings have been evident, specifically in two areas: Sunday morning worship and small groups.
Sunday morning worship is a great encouragement as the body of Christ comes together to experience God's glory revealed through singing, praying, hearing the Word read and preached, and having weekly communion. Weekly communion especially has been a much-needed "means of grace" as we have all experienced the attacks of the enemy who does not want to see this church succeed. At the table, we are reminded of who we are and "whose" we are in Christ and that we are empowered to keep going on this mission because of the grace we have been shown.
Small groups were launched at the beginning of February. We have five groups meeting throughout the week in the following communities: Bellefonte, State College, and Boalsburg. We are all going through a book called B.L.E.S.S. which is an acronym for:
Being with Prayer
Listen
Eat
Serve
Story
It is a very simple book about how to engage your neighbor, genuinely befriend them, love them, do life with them, and look for opportunities to share the Good News of Jesus with them. It has been really encouraging to hear the different stories and interactions that people have had since implementing some of these simple principles.
Also, in order for Bellefonte Presbyterian to flourish, evangelism must be more than a value, it must be a behavior, not just something we believe in, but something we actually do. With this in mind, we invited a pastor from our Presbytery, Shibu Oomen, to do a one-day seminar in February. He shared a tool called "Share Your Faith," which can be used to share the Good News of Jesus by using your hand. With its five major points: Grace, Man, God, Christ, and Faith, this tool is an easy way to share the Gospel in a conversation with a friend, neighbor, or family member.
Equipping the people of Bellefonte for ministry is the main focus of the leadership of this church plant and we are encouraged by how God is equipping those He has called to this work.
How can you pray for Bellefonte Presbyterian?
Pray for our Easter Service. Our hope is that many people from the community will come and spend Easter with us. Pray we will be bold and winsome in asking people to join us, but more importantly that we will be looking to have genuine relationships with our neighbors and friends.


Pray for the small groups that are meeting regularly. Pray that our small groups will be safe places where people can grow in their relationship with each other and in their relationship with the Lord.


Pray that as a church we will keep our eyes on Christ. He is the one who is building this church, so we can rest in Him and in what He is doing.
On behalf of your brothers and sisters in Bellefonte, I want to thank you for all your prayers and support of this work. Planting a church isn't easy on those going or those sending, and we know that Oakwood's support of this church plant is an investment, so keep your eyes on Christ, for He is doing something new in Bellefonte.
For the Kingdom,
Pastor Owen