Bellefonte Church Plant
Bellefonte Presbyterian Church

BPC is the daughter church of Oakwood. Weekly Sunday worship services are held at 10:00 am in the Sanctuary located at 203 N. Spring Street in downtown Bellefonte.
Many of the leaders and members are from Oakwood and joined together, starting in July of 2022, to plant Bellefonte Presbyterian Church. This work is led by former Oakwood Associate Pastor Owen Hughes, Elder Conal Carr, and Oakwood Elders Tim Eshelman and Bill Bonness.
The vision for Bellefonte Presbyterian Church is that "We are a people loved by God and placed by Him to bless the people of Bellefonte and surrounding communities."
Bellefonte Campaign Pledge
In order to provide the funds needed to plant this church, we hope to raise $1,000,000 over the next three to five years from Oakwood and Bellefonte pledges. It is an "ask" that only God can "answer." Our hope is that God will move in His people to provide for this work and we are asking that you will consider your part in this plan. You can also submit your pledge online at any time by completing your pledge information HERE or clicking the picture below. On March 26 we will have a "Giving Sunday" where both Oakwood and Bellefonte Presbyterian Church (BPC) will present their pledge cards. Thanks for your consideration and we look forward to seeing how the Lord will provide!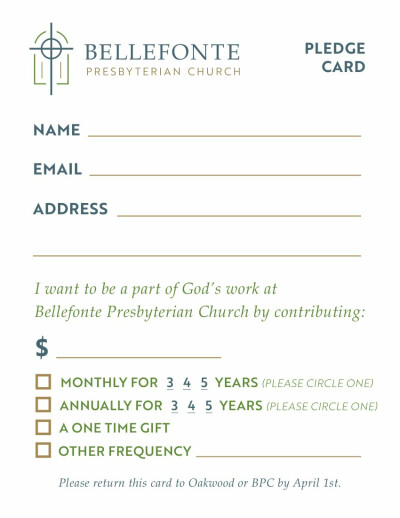 If you have questions about the plant or would like to get involved, you can check out Bellefonte Presbyterian's website for more details, or contact pastor Owen here.