BY MARK HORN, West Africa Team Member
After listening to Jim and Mamadou when they visited a few years ago and working with Oakwood's Foreign Mission Team for the past two years, I was very excited about the opportunity to serve on a short-term mission trip to West Africa. My first trip to Africa was to Kenya between my junior and senior years in college, way back in 1981. I never lost my desire to return to Africa and as we planned for our trip, I was gripped with the same excitement I had as my 20-year-old self; a chance to share the gospel to the ends of the earth.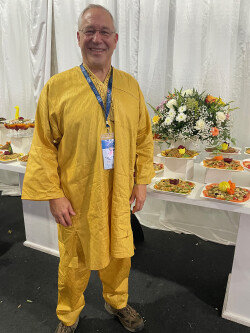 The first trip to West Africa with the team from Oakwood and Crossroads PCA (Delaware) was exhilarating for me, seeing a new part of the world and spending time with people we had been praying for and with these past few years. I was truly amazed at how the Lord knit together 11 people, from ages 11 to 60-year-olds, through monthly zoom meetings from January to July. We all met for the first time in person at JFK on Wednesday, August 17, in our flight's gate area. Experiencing new foods, famous places, worship with pastor Mamadou and the Safe Girls Home (SGH) girls, and lunch afterward solidified our team, and we bonded in just the first few days. On Sunday, we arrived at our accommodations for the week of SGH girls' "summer camp." We all worked hard making and teaching crafts, playing and organizing games, telling and retelling the story of Joseph, and loving the girls despite the language barrier. I loved our swim time in the ocean with the girls, but it was exhausting. We had to embrace Jim's words "be flexible or be broken!"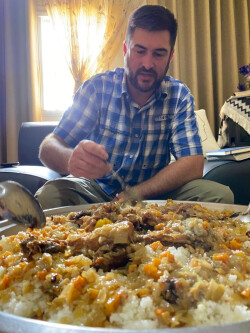 Owen and I stayed an extra few days so that we could have more time with the "Timothies." These young men have been recently ordained as pastors and those who just starting their training. We also spent precious time getting to know Jim and Karen, Collin and Zury, and Donnie and Kara, who are members of the West Africa (WA) team. But one further reason for the extended time was for me to make some connections at the University (the largest in French-speaking Africa). In the Lord's sovereign plan, I was approved by Penn State to go to an international conference being held at this same University in December.
In December, I was on my own. All fall, items kept arriving at our house for me to take for the WA team. This was in addition to 50 French Bibles that were shipped to me from Germany free of charge. Of course, there were the gifts from Oakwood to take to the SGH girls, the WA team members, the Timothies, and Pastor Mamadou and his wife, Marie. As I departed from State College to JFK, I ended up with five carefully weighed bags, each at just under 50 lbs., one of which was my carry-on. Donnie labeled me Santa Claus, although he is the one who requested a Santa outfit!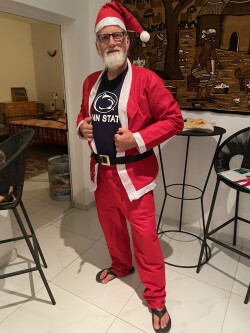 I was able to have two days before the conference and three days after the conference to spend with different members of the team. I had the traditional meal with Collin, and Zury, at the home of Sebastian, Angele, and two-year-old, Marianne, who are the local pastoral family working with Collin and Zury. I attended a Christmas celebration with Reformed University Fellowship (RUF) students from the University. I had another traditional meal with Jim, Karen, Roman, and Georgia at the home of Sidy, Madeline, and baby Jim, the pastoral family for the church plant in Center City. After the conference, I visited a self-sustaining farm with Donnie and Kara and had a great time of prayer with Moustafa and his family (church planting in Malikunda) on my last stop before going to the airport.
During the conference I walked from my hostel each day to the meetings, even attending a pre-conference workshop. I met students and professors from all over Africa. We all ate lunch at the conference and I had many interesting conversations. I was able to celebrate with my new friends at the gala dinner on the last night of the conference sporting my "boubou" (traditional garb) given to me by Collin and Zury. I learned a great deal at the conference and made many new connections. In reflecting, I was saddened to hear of the extent to which Africa continues to be taken advantage of with respect to natural resources. It was also very apparent how different higher education is in West Africa. They do so much with so few resources in the areas of science and technology. Moreover, there is not much opportunity for graduates because there is so little industry. The most moving feeling I experienced, was walking across the campus each day and thinking about the spiritual condition of those bright, young men and women pursuing educational wisdom. It is a very different culture, with many obstacles, financial and spiritual, and yet the need for the gospel is the same there as it is here. In that regard, their university is not that much different than our universities—men and women think that their own wisdom is the key to life. I am reminded of Paul's letter to the Corinthians where he tells them "…the wisdom of this world is folly with God." My trips increased my resolve to pray for the Gospel to be known in West Africa, here in Central PA, and to keep asking the Lord how he can use me here and there.