2023 Women's Ministry Retreat
Lessons from the Psalms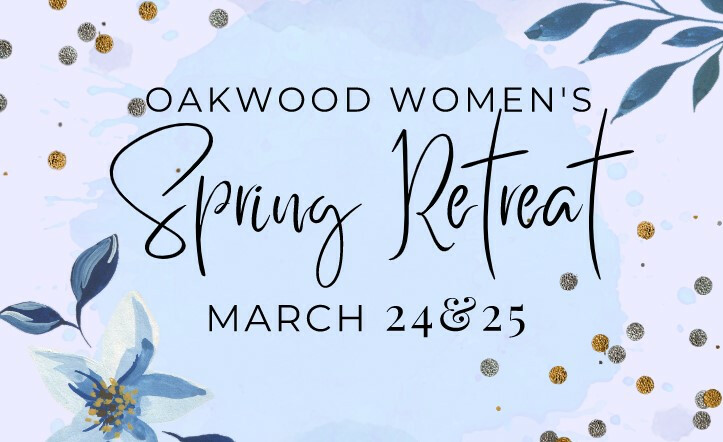 Registration Deadline - March 17
Click HERE to register for a wonderful time of food, fellowship, teaching, and fun. The retreat will be held at Oakwood beginning Friday evening, March 24 through Saturday afternoon, March 25. We will hear from Alison Amaismeier, Sue Eshelman, and Kaylah Olshefsky who will share Lessons from the Psalms. Childcare is not provided, but nursing babies (and their strollers) are welcome to join us.
There is no charge for this event.
Headsets will be available during the large gathering time in the sanctuary to aid those with hearing impairment (as used on Sunday morning).
Need assistance with registration?
Look for the retreat registration table set up in the gathering space on Sundays March 5 and 12 or contact Miriam Schneider at 570-394-2913 and she'd be happy to help!
Looking for a Sweet Opportunity to serve? Dessert signup coming out soon.
SCHEDULE OF EVENTS:
Friday
6:00 pm - 7:00 pm - Chicken Dinner
7:15 pm - 7:30 pm - Welcome and time for worship and prayer
7:30 pm - 8:15 pm - Session 1
8:30 pm - 9:15 pm - Breakout Session 1
9:15 pm - Dessert and close
Saturday
8:30 am - 9:30 am - Pancake breakfast
9:45 am - 10:00 am - Time for Worship
10:00 am - 10:45 am - Session 2
11:00 am -11:45 am - Breakout Session 2
12:15 pm - 1:15 pm - Lunch - Honey Baked Ham Box Lunches
1:25 pm -1:35 pm - Short worship time
1:35 pm - 2:20 pm - Session 3
2:30 pm - 3:15 pm - Breakout Session 3
3:15 pm - 4:00 pm - Dessert/close